Cranberry Sauce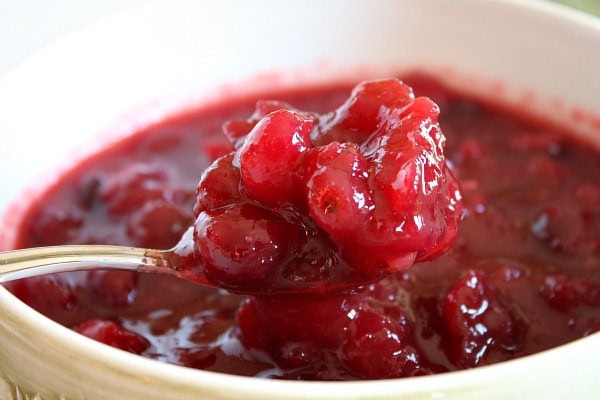 Everyone has a favorite dish at Thanksgiving. (Mine is the turkey sandwich on Friday.) My oldest daughter's is cranberry sauce. I never liked it myself—probably because I grew up eating jellied cranberry sauce that was store-bought and canned-shaped. But I make it for everyone else, and it quickly became her favorite. In fact, she annually indulges in an entire bowlful for breakfast the following day. (I always make at least a double batch.) But this year she's on the other side of the country, and so, she's on her own.   This is for her.   One bit of motherly—not cheffy—advice: Don't wear white, or anything you care about, when you make this. The berries sometimes pop (aka explode) if they get going too hot.
1 12-ounce bag fresh or frozen cranberries
1 cup sugar
Grated zest of 1 orange (use a microplane, the fine holes of a box grater, or a zester)
½ teaspoon cardamom
1 piece star anise
½ teaspoon sea salt
1 cup orange juice
Method
Combine all ingredients in a large saucepan and bring to a boil. At the boil, reduce the heat to a simmer and cook, stirring every couple of minutes, until the berries have popped and the mixture thickens, about 10-15 minutes. Remove from heat, cool, then refrigerate until well chilled. Serve chilled—with turkey or with just a spoon.
Variations
Leftover cranberry sauce makes great sorbet. Puree it in a blender, pour in a freezable container, and freeze. Stir it every 10 minutes or so until thick and scoop-able. Voila! Instant no-churn sorbet!
Print this recipe
---
click here to see all the recipes in our

FEATURED BOOKS:
Mug Meals: More Than 100 No-Fuss Ways to Make a Delicious Microwave Meal in Minutes
Dinner on the go, cooking for one, or just want to mix up a quick snack? Mug Meals will show you how!
No-Churn Ice Cream: Over 100 Simply Delicious No-Machine Frozen Treats
Discover how to make homemade ice cream and other desserts!
The Spiralized Kitchen: Transform Your Vegetables into Fresh and Surprising Meals
Get the most out of your spiralizer with these delicious and inspiring low-carb recipes!
Zesting

Zest is the outer-most rind of any citrus fruit. It's where all the color is and, not coincidentally, all the flavor too. The zest is loaded with essential oil and is crucial to any good citrus-based recipe.
I prefer to use the finest holes of a grater for this task. It takes the zest off in small enough pieces that they can be added right into a recipe. There is a groovy tool called a microplane that does an excellent job of this. (The microplane is a carpenter's rasp fitted with a stylish handle, and sold for mega-bucks at kitchen gadget emporiums. Any old rasp from the hardware store will do the job.)
A tool I do not like nearly as much is the zester. One might think that because it is named zester, it is the perfect tool for the job. Not so! It strips zest off in long pieces which must then be chopped fine with a knife. (An extra step? No thanks!) Also, the zester frequently digs too deep, pulling up the white bitter pith underneath the zest. Not good.
Take care when grating zest that you do not grate too much off. The fruit should look naked when you're done, but still round.
Zest can be harvested and frozen for later use. Keep it in a zipper bag in your freezer for last-minute citrus inspiration.
Print this technique
---